Performances
A partial list of over 50 performances by Shakeh Major Tchilingirian (formerly Shakeh Avanessian)
"1001 Voyages" - Armenian Dances with Shakeh and Dellalian Trio
Calouste Gulbenkian Foundation, Lisbon
24 June 2016, 6H30
A performance which tells the story of the Armenian Diaspora through music and dance. In the 1st half of the program we'll see solos choreographed by the Armenian dancer Shakeh Major Tchilingirian, with Trio Dellalian. The themes are reflections of these collective and individual journeys started centuries ago. They are "hope for humanity" and celebration of life itself. On the 2nd half of the performance, Shakeh will invite the audience to join in the Circle of Life, to complete the evening with two traditional Armenian dances.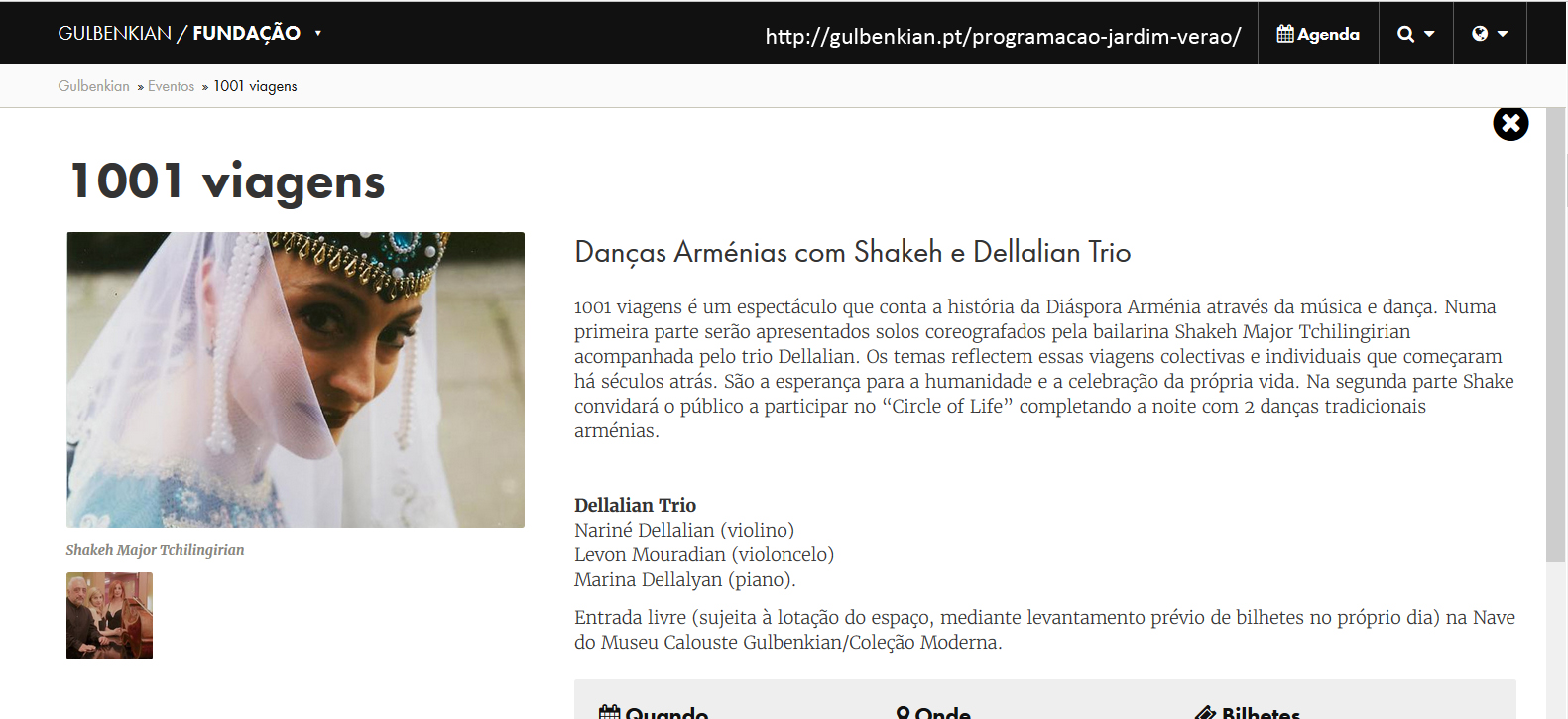 Performer (Chorus: soprano)

"Davit Bek" opera by Armen Tigranian (1897-1950)

London Armenian Opera Chorus and Orchestra (conductor: Levon Parikian; Director: Seta White) at Benjamin Britten Theatre
London, 18 & 19 December 2015.
Solo Dances in "Remembering Komitas"
Armenian Music to Commemorate the Centenary of the Armenian Genocide, organised by Oxford University Armenian Society. Magdalen College Auditorium, University of Oxford.
9 May 2015
GARINEH, Comic Opera by Dikran Chouhajian
London Armenian Opera (prodcuers: Seta White & Aris Nadirian) at The Tabernacle
Londo n, 29 & 30 March 2014
SALON MASHUP. Displacement and Regeneration: Armenian Perspectives of loss and resettlement
Basement tunnels of Shoreditch Town Hall
London, 31 January - 7 February 2013
Dance Performance. "NERDURS" performed by Teni Matian (choreographer) and Shakeh Major Tchilingirian.
This piece is about the dispersed Middle Eastern diasporan populations of Armenians, whose lens of observation is all in black. Armenia is personified by a Tree, whose blooms and branches grow as every person separated from their roots brings something back.
Performance: "PACKING" devised and directed by Karen Babayan. Performed by Shakeh Major Tchilingirian.
A woman packs her suitcase, slowly and deliberately at first, the movements are meditative, building gradually in momentum as she discards one item for another, making choices for her journey. The objects and clothes she packs are her life and gradually the packing becomes more frantic as she finds herself unable to make the difficult decisions about what to take with her.
Lead Role (Mother Armenia)
"NERDURS" (Azatutyun Report)
Kino Moskova Theatre
Yerevan
23 & 24 November 2012
Solo Dance Performance
Premier of
London Armenian Opera (producers: Seta White & Aris Nadirian)
The Tabernacle
London
6 & 7 July; 27 & 28 October 2012
Solo Dance Performance

Brunei Gallery, School of Oriental and African Studies
University of London
27 April 2006
Solo Dance Performance & Production
'One Thousand and One Journeys'
Brunei Gallery, School of Oriental and African Studies
University of London
29 April 2006
Solo Dance Performances
International Lord Byron Festival
Holgate School, St Mary Magdalene Chapel & Newstead Abbey
Nottingham
16 July 2005
Solo Dance Performance
Haigazian University 50th Anniversary Gala Banquet
Phoenicia Intercontinental Hotel
Beirut
29 June 2005
Solo Dance Performance

CRAG, Ealing Town Hall
London
23April 2005
Solo Dance Performance
"An Evening with Poet Siamanto"
Armenian Institute, at Kensington Library
London
18 March 2005
Solo Dance Performance
Sayat Nova & the Armenian Troubadour Tradition
Armenian Institute, at St Peter's Church
London
6 November 2004
Solo Dance Performances
International Lord Byron Festival
Holgate School, St Mary Magdalene Chapel & Newstead Abbey
Nottingham
10 & 11 July 2004
Solo Dance Performance
"We shall not die!" Armenian Genocide Memorial Programme
CRAG, St John's Church
London
23April 2004
Solo Dance Performance & Production
'The Spirit, The Passion'
English Speaking Union, Dartmouth House
London
24 March 2004
Solo Dance Performance
AGBU Charity Gala for Norashen Centennial Project
Marriott Hotel
London
8 November 2003
Solo Dance Performance
Acton Carnival
Acton Park Festival
London
19 July 2003
Solo Dance Performance
International Lord Byron Festival
Holgate School, St Mary Magdalene Chapel & Newstead Abbey
Nottingham
13 July 2003

Solo Dance Performance
Elbow Room Dance Company,
"Medsmama" by Ani Tchakmakdjian
Union Chapel Theatre
London
12 June 2003
Solo Dance Performance
Komitas: an odyssey of Armenian Music in the last 100 years
Armenian Institute, at St Peters Church
London
15 March 2003
Dance Performance
'The Spirit, The Passion'
Findhorn Foundation
Scotland
9 November 2002
Solo Dance Performance
RESPECT Festival
London
20 July 2002
Solo Dance Performance
Armenian Dance Theatre
Coin Street Festival, Celebrating Sanctuary/Refugee Week
London
16 June 2002
Solo Dance Production & Performance
"The Spirit, the Passion"
Haigazian University 45th Anniversary Celebrations
Beirut
17 April 2001
Solo Dance Performance
'Armenian Period Costumes and Performances'
AGBU, at Hellenic Centre
London
17 March 2001
Solo Dance Performance
"Anahid" Production
Armenian Institute, at Maria Assumpta Hall
London
16 June 2001
Solo Dance Performances
International Lord Byron Festival
Holgate School, St Mary Magdalene Chapel & Newstead Abbey
Nottingham
15 July 2001
Dance Performance
Armenian Dance Theatre
Acton Primary School
London
18 March 2001
Solo Performance
Barbican Festival
The Barbican
London
2001
Dance Performance
Armenian Dance Theatre
Commonwealth Institute
London
28 May 2000
Solo Dance Performance
Acton Spring Festival
Acton Town Hall
London
21 March 2000
Solo Dance Performance
Armenia : A Thousand Branches
VOSSKI, at Hellenic Centre
London
7 November/1998
Solo Dance Performance
Birmingham Conservatoire
University of Central England
Birmingham
17 June 1998
Solo Performance
October Gallery
London
2 December 1995
Dance Performance
Arax Dance Group
Melkonian School Gala
Cyprus
1989
Dance Performance
Arax Dance Group
Bewdley Festival
16October 1989
Solo Performance
Aid Armenia Charity Event
London
1989
Dance Performance
Arax Dance Group
Tekeyan Cultural Association
Logan Hall, University of London
1986
Dance Performance
Arax Dance Group
Royal Garden Hotel
London
November 1985

Folk Solo Dance Competition
First Prize winner, Gulbenkian Hall
London
October 1984
Dance Performance
Anahid Djambazian Group
Niavaran Palace
Tehran
1976