In The News
Copenhagen: Song and Dance Ensemble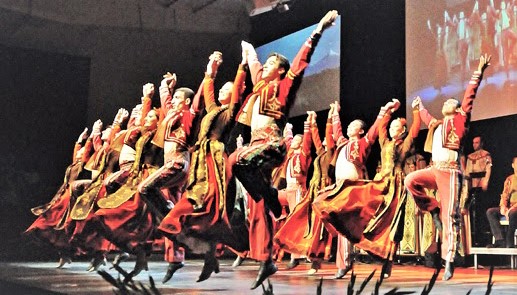 Tatul Altunyan Armenian Song and Dance Ensemble
Københavns Kulturcenter, Copenhagen | 11 October 2014
Photos: International Club Copenhagen ICC News
Opening remarks by Shakeh Major Tchilingirian
Your Excellencies, Ladies and Gentlemen,

I would like to welcome you all on this special occasion, to the very first performance of the Tatul Altunyan Armenian State Song and Dance Ensemble in Denmark.

I would like to share some insight into the mystery and magic of Armenian folk song and dance and the significance of the work of the great founder Tatul Altunyan himself.
Tatul Altunyan was born in Adana in 1915 amidst the dark chapter of the Armenian Genocide when the very survival of Armenian life was at stake.
And yet as a nation of survivors, the Armenians have not only kept the flame alive, they have continued to keep this deep connection with the roots through the Armenian language, the Armenian church, and of course the Armenian culture of songs and dances.

Song and dance are significant expressions of the Armenian ethos, especially for Armenians living in dispersion. Armenian song and dance provide a living and evolving link with the historic homeland and present day Armenia. Love and yearning for the homeland or the beloved are central themes in both these songs and dances.

The grace of the dancer masks a core of fiery strength, while the drama of the dance comes from combining this strength with graceful wisdom of bending but not breaking -- a key to survival.
Men's dances are strong, fast, energetic. Dances from mountainous regions of the homeland often show close-linked arms expressing community solidarity and strength. especially as noted in the "Razmakan" (Battle) dances celebrating heroic victory, while women's dances are graceful, lyrical and dignified. The Armenian woman dances with her head held up high and with a definite open chest, depicting the grace, pride and dignity of the people and confirming deep inner strength.

In the women's folk lyrical style, dance draws inspiration from the natural world with gestures illustrating the flow of water or scented breezes, the fertile and sacred earth, the protective mountains of the homeland or auspicious animals like the crane which brings news from the homeland to the exiled.

Lost love and longing are in almost every aspect of song and dance even in the height of energy and joy -- a balancing and reaffirming act.

Therein lies the magic and beauty of these songs and dances. They are a reminder of human values for people of all nations and backgrounds. They are a celebration of life!

The Ensemble was founded in 1938 by Professor Altnuyan himself to preserve and resurrect this very link with songs and dances that were very nearly extinct. It has seen many wonderful directors, artistic directors and choreographers pave its way along the glorious 75 years of its existence.

Without further ado, ladies and gentlemen, I leave you to feast your eyes, ears and hearts...
Enjoy!
---